Fledgling Latino congregations need robust marriage and family ministries to bolster and maintain the health of their congregations. Tweet This
Participants who were at-risk for divorce at the beginning of the AVANCE program had markedly lower scores at the end of the program. Tweet This
The faith community provides a natural and trusted source of support that can encourage, empower and equip families. Tweet This
I (Alicia) can never forget the tears of a 7-year-old boy who sat crying in my office back when I held a full-time, clinical caseload. He was utterly broken by his father's abandonment of him, his mother, and his newborn brother. He wondered out loud if he had done something to deserve this—if only he had done things differently, maybe his father wouldn't have left. That moment was a watershed moment for me.
This child's experience is not unusual. His parents were going through a series of difficult, but not impossible to overcome, conflicts in their marriage that escalated to the point of breakage. They needed to learn how to adopt healthier communication habits, break free from the negative relationship hang-ups they had learned from their own families of origin, and adopt an attitude of gratitude and grace towards one another. This little boy, like so many others who shared their hurts and disappointments, didn't have to experience this hardship—if only someone had reached his parents sooner.
Sixteen years later, the non-profit organization Family Bridges, which Alicia founded and now leads, does just that, reaching people with communication and relationships skills before a family unit falls apart. Many health and socioeconomic outcomes are closely tied to family wellness, so our programs equip participants with the education and resources needed to help families thrive, with a special emphasis on the Latino community.
Research findings, like those in the Adverse Childhood Experiences (ACE) and Fragile Families studies, indicate that trauma in childhood, most often caused by familial instability, significantly increases the risk of negative health and socioeconomic outcomes. This fallout includes chronic disease, depression and anxiety, low academic performance, partner abuse, violent crime, and many others.
In an effort to prevent these issues, Family Bridges' programs focus on delivering relationship education and other wraparound services to low-income communities. Our model of service delivery centers around coaching local organizations to replicate the programming to improve their organizational health and leadership practices, as well as extend their reach into the broader community. This model known as AVANCE (Spanish for "advance") extends the impact of Family Bridges' work by equipping local leaders to serve their neighborhoods directly rather than relying solely upon the services of external agencies. The AVANCE model has been implemented in several U.S. cities and overseas (Costa Rica, Dominican Republic, Puerto Rico, Spain).
The AVANCE program began as a way to help disseminate effective relationship and family curriculum in a sustainable way into local communities, rather than coming into a neighborhood, making a one-time difference, and leaving. Making the curriculum replicable builds momentum and makes the program self-sustaining. Family Bridges had more than a decade of training and developing classes and resources to help improve marriages, empower parents, and strengthen families, but the program lacked the manpower or infrastructure to keep it going in churches indefinitely. To make these resources available for the long haul, we created a three-year training program so community members could teach these curricula for years to come. A Family Bridges employee guides the trainees through years of programming.
In 2017, Family Bridges sought to study the effectiveness of the AVANCE program through a longitudinal study based in Chicago. The ongoing study follows participants from three cohorts of churches in that city over the three-year period of the program being implemented. The first year of the program involved organizing with parish leaders. To evaluate the program's effectiveness, participants are asked to respond to sets of questions that assess attitudes toward marriage (vs. cohabitation), relationship health and satisfaction, likelihood of divorce, parenting skills, involvement in their parish, and satisfaction with their church's support of marriage and family life. The items are administered prior to the first AVANCE program event at the beginning of the second year of engagement with the church, at four time points across the implementation of AVANCE, and at the conclusion. Additionally, program volunteers are surveyed at the beginning of their involvement and at the conclusion of the program to determine if volunteering with AVANCE has benefited them.
The first cohort of churches completed the program in 2020, allowing for an initial evaluation of the longitudinal changes in participants scores. When all three cohorts have reached the end of the program cycle, there will be a final evaluation. The initial results from Cohort 1 are very promising. Most notably, relationship health and satisfaction increased by nearly one standard deviation among the 188 participants who answered relationship quality questions over the six time points (see Figure 1), and the likelihood of divorce decreased to nearly zero (see Figure 2) among the 172 participants who answered the divorce likelihood items.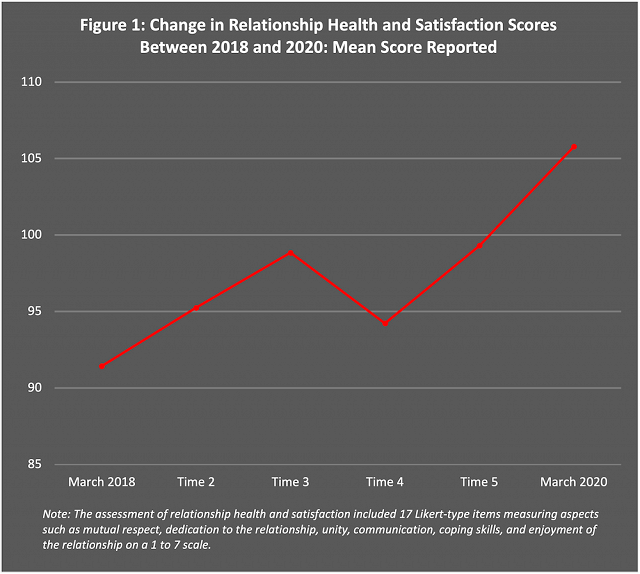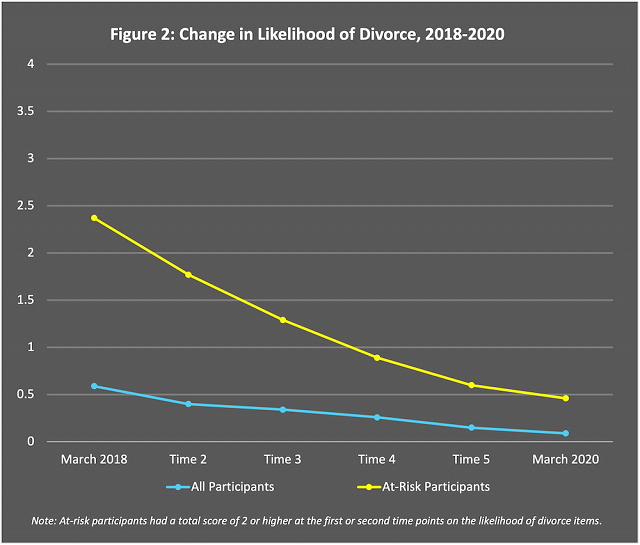 Importantly, participants who were at-risk for divorce at the beginning of the program had markedly lower scores at the end of the program. All of these results were statistically significant. Participants' satisfaction with their parish's support for their marriage also showed large and statistically significant gains over the course of the program.
These findings are supported by anecdotal evidence as well. One couple, Juan and Adelita signed up for the AVANCE class, "Romance Perpetuo" as a last effort to save their marriage. The class focuses on commitment, communication, and everlasting love. At the beginning, the couple could not even look at one another, and barely engaged with the online class, standing out because of their obvious unhappiness. After a few weeks, their instructor, a paid Family Bridges staff member, noticed Juan and Adelita started to inch closer to each other and to interact more. As the months progressed, they engaged more, until one day they sat together with smiles on their faces. In the middle of lockdowns, uncertainty, and unrest, they found peace in their marriage and a renewed commitment to relationship.
The Latino church is experiencing a historic boom both in the United States and abroad. However, in both Latin America and the U.S., Hispanic congregations continue to be underfunded and under- resourced. These fledgling congregations need robust marriage and family ministries to bolster and maintain the health of their congregations as families are the fundamental building block of the church. Unfortunately, culturally appropriate marriage and family ministry resources are expensive and rare, making this a significant burden for Hispanic congregations.
To meet this need, Family Bridges is also bringing the AVANCE model of church leadership and marriage ministry development online with a virtual learning experience called "Casademia." The hope is that "Casademia" will increase access to marriage and family curricula for under resourced Hispanic churches, while improving marriage, family, and other church health outcomes.
Latino households demonstrate incredible resilience in the face of hardship and distress. Many families are vulnerable in the face of financial, educational, and work-related pressures, as well as unsafe neighborhoods and traumatic experience. The acculturation experience means these challenges are faced in isolation as traditional sources of support often relied upon through extended family and engaged neighborhoods are compromised. Emotional and relational needs against the backdrop of these challenges can overwhelm couples and families. The faith community provides a natural and trusted source of support that can encourage, empower and equip families. AVANCE has positively demonstrated that a collaborative model that seeks to establish a marriage ministry with deep roots and long branches can help strengthen Latinos' resilience and help families flourish.
Nancy Scammacca Lewis, Ph.D., is a researcher at the Meadows Center for Preventing Educational Risk at the University of Texas at Austin. Alicia La Hoz is a Licensed Clinical Psychologist and the Founder and CEO of Family Bridges.
Editor's Note: The opinions expressed in this article are those of the authors and do not necessarily reflect the official policy or viewpoint of the Institute for Family Studies.